A QUEEN WITHIN ADORNED ARCHETYPES
UTOPIAN BODIES – FASHION LOOKS FORWARD
FASHIONPLAY :FASHIONSHOP, 2012
NK, 2005
VERS!, KUNSTLIEFDE GALLERY, UTRECHT, HOLLAND, 2004
VENICE BIENNALE, ACCESSORIES TO PROJECT, WITH ARTIST MARTHA ROSLER, NY, 2003
MÖNSTER I FLERA DIMENSIONER, SÖDERTÄLJE KONSTHALL, 2002

PLAY
Maja Gunn PLAY is a 300 sq meter exhibition with works by Maja Gunn at The Swedish Textile Museum.
November 11th 2017 until April 22nd 2018.

NORM FORM
Maja Gunn is the curator (together with Karin Ehrnberger & Camilla Andersson) of NORM FORM at ArkDes in Stockholm.
6/10 2017 – 11/2 2018


A QUEEN WITHIN ADORNED ARCHETYPES
The exhibition A Queen Within Adorned Archetypes curated by Sofia Hedman & Serge Martynov at Art Basel Miami includes works by Maja Gunn, Alexander McQueen, Vivienne Westwood, Iris Van Herpen, Rick Owens and more. I-D Magazine lists it as one of Art Basel Miami\'s must see and Miami New Times lists it as one of the best fashion events. November 29 – December 5 2016. 2215 NW 2nd Avenue, Wynwood, Miami.
press release A Queen Within Adorned Archetypes

UTOPIAN BODIES – FASHION LOOKS FORWARD
Maja Gunn participates in the exhibition Utopian Bodies – Fashion Looks Forward at Liljevalchs Stockholm. The exhibition shows works by in example Hussein Chalayan, Walter van Beirendonck, Rick Owens, Acne, Viktor & Rolf, Issey Miyake and more. You'll find the works by Maja Gunn in the Gender Room and in the Society & Resistance Room.
About Utopian Bodies – Fashion Looks Forward

EXCLUDE ME IN
Exclude Me In is made by MYCKET, NBC and Maja Gunn, shown at GIBCA, Gothenburg International Biennal For Contemporary Art (2013). Exclude Me In is an installation at Göteborgs Konsthall and an outdoor performance on Esperantoplatsen, to add a queer dimension to the history of the Gothenburg carnival. Traditionally a space of gender inversion and sexual transgression the missing queer and lesbian history of the Göteborg Carnival speaks to repressed elements that carnivalesque tactics can uncover where the carnival itself didn't.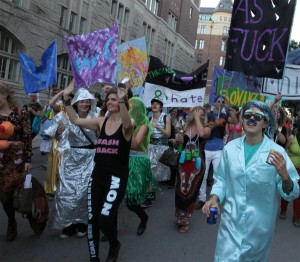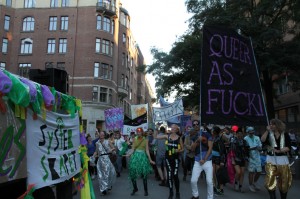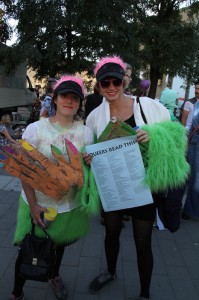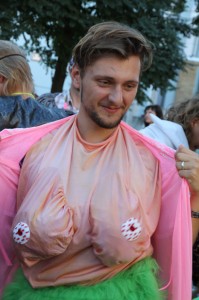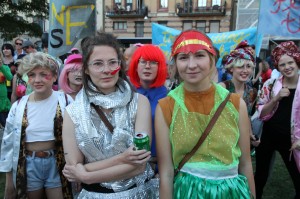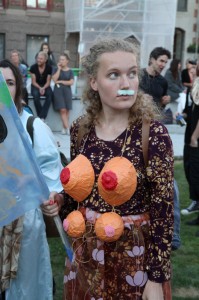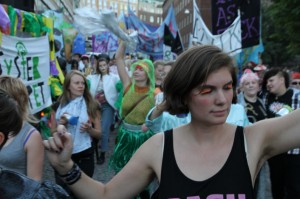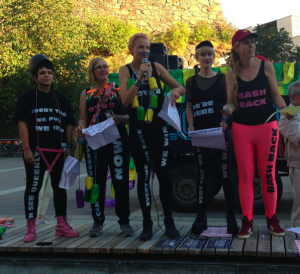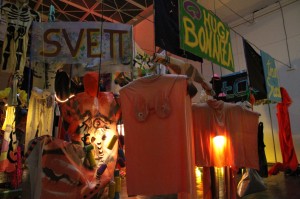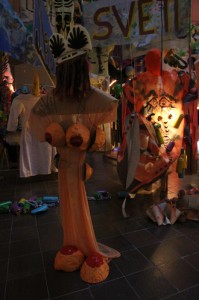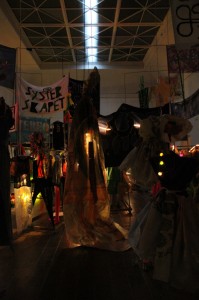 TENDENSER/ TENDERNESS
Maja Gunn shows the project If you were a girl I would love you even more in the exhibition Tenderness at Gallery F15, Moss, Norway.
The exhibition is curated by Glenn Adamson, curator and head of research at Victoria & Albert Museum, London.
March 23 – May 19 2013
"If you were a girl I would love you even more tells a story about the elaborations with a man's gender identity. It is a play with his fears of being feminized. He is participating in the project by his free will but at the same time pushes the responsibility of his acting away from himself, since I, Maja Gunn, am an active part in the enactment. He is wearing clothes he usually never wears, clothes he thought he would never wear. He struggles between what he learned is right and his actual behavior. In the beginning of the project he is very reserved and does not actively participate. He is doing what he is told but no more than that. Slightly though, during the project he changes and proceeds to offer creative suggestions and no longer fears his image in the mirror. The bodily transformation, the ongoing elaboration, departs from our dialogue that creates an interaction. The project converts his alienation into acceptance and at some point even comfort."
Additionally Maja Gunn has presented the project If you were a girl I would love you even more as a paper at Design Principles and Practices conference in Tokyo, Japan (March 2013), as a performance at Bonniers Konsthall, Stockholm (May 2013). Sweden's biggest newspaper Dagens Nyheter writes about it here and Rodeo Magazine has a similar interview here. The Swedish Television is doing an interview that will be screened in November 2013.
The project If you were a girl I would love you even more is presented as a series of photographs. There is also a book with text and photographs, showing the scenarios and dialogues that were perceived during the project.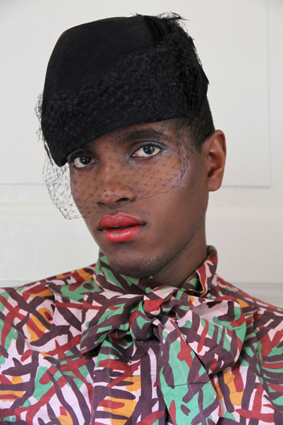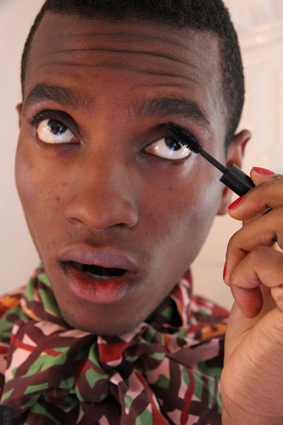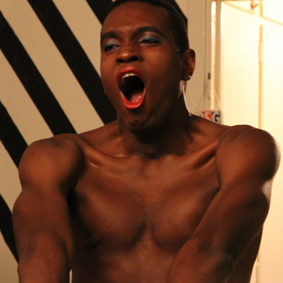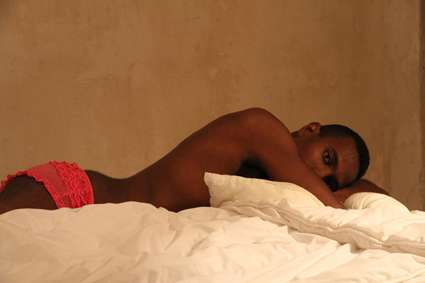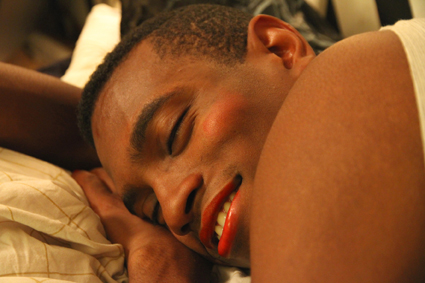 FASHIONPLAY:FASHIONSHOP 2012
Maja Gunn shows a series of white tops at an exhibition at Arkitekturmuseet 2012.
The photograph in the exhibition is taken by Mathias Sterner.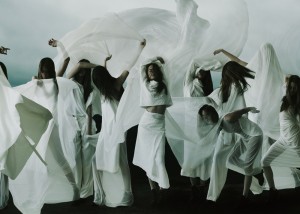 Connected to the exhibition is also a web shop.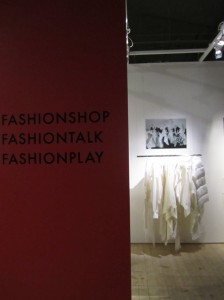 The exhibition was also shown at Motala Konsthall in the summer of 2012.

FASHION LIGHT
Maja Gunn shows a project with light garments at Amanda Gillespie, New York, NY 2011
Photo by Ceen
Fashion Light is supported by Konstnärsnämnden the Swedish Arts Grants Commitee

L
Maja Gunn shows a film of Collection L at Röhsska Design Museum, Gothenburg 2008.
Photo by Hans Gedda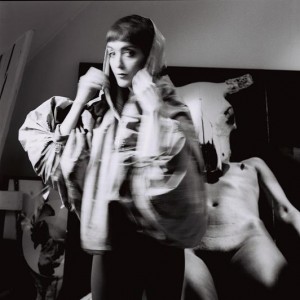 THE ESSENTIAL BAG
Maja Gunn designs bags and exhibition interiors for an exhibition at The Royal Armoury, Stockholm, 2008

DOTDOTDOTDOT
MOSSUTSTÄLLNINGAR, 2006
A textile installation by Maja Gunn. The exhibition ended with a big masquerade party with a strict dress code to arrive dressed in dots.
[nggallery id=9]


PRET-A-PROTESTER
RIKSUTSTÄLLNINGAR, 2003
TextilMuseet i Borås
30/10 2003 – 6/1 2004.
Nordiska Museet, Stockholm
Produced by Riksutställningar and
Textile Museum in Borås
Maja Gunn and Maja Sjöberg (MAJA2) participated in the Mah Jong-exhibition with their work at the New Designer session.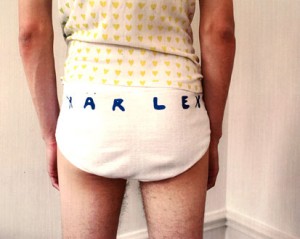 HEJ-Å-VÄLKOMMEN-KUL-OM-DU-KOM
SOLO EXHIBITION AT FOKUS GALLERY, OXELÖSUND, 2004
As a culture price winner Maja Gunn had her solo exhibition at the Fokus Gallery in Oxelösund. By showing text, drawings, pearl boards and wallpapers she created a story about her summer stay in the small town. About love, dreams and loneliness.
Poster for the exhibition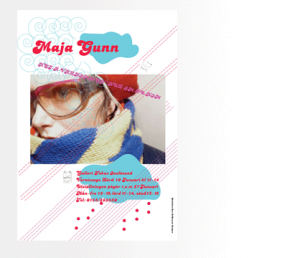 CONCEPT DESIGN
NATIONAL MUSEUM, 2005
Koncept Design
28 april 2005 – 2 oktober 2005 Nationalmuseum, Stockholm
Exhibition produced by Nationalmuseum.
Curator: Cilla Robach
Exhibition designer: Anna von Schewen
Conceptual Design presents 65 conceptual objects made by 50 designers. The exhibition analyses the current design debate and highlights issues and phenomenon.

»Something has happened in Swedish design since the turn of the millennium
In the 1990s we saw the blond, modern look with roots in Scandinavian design tradition. Today, young designers are searching for new aspects, where neither function nor esthetics is the primary goal. (…) due to Sweden's strong modernistic heritage, the question of what design ought to be is very provocative. The conceptual trend will be analyzed and discussed within its contemporary context.«
(from the Nationalmuseum website)
In the exhibition
Maja Gunn worked
with the project Piña Colada in
cooperation with artist Björn Kjelltoft,
Finn Öhlund and graphic designer
Björn Kussofsky.
Piña Colada is a trademark free to explore.


IN FASHION
DUNKERS KULTURHUS, 2005
In Fashion – New Swedish Clothing Design
På Modet – Ny Svensk Kläddesign
28 May 2005–12 February 2006 Dunkers Kulturhus, Helsingborg.
Exhibition produced by Dunkers Kulturhus. Curator Cay Bond.
»Who are the Swedish fashion designers who reflect the present? Where do they find their inspiration? Why do their pieces look the way they do? What are their work processes like and what thoughts and ideas lie behind them?
All these questions are addressed in the exhibition In Fashion – New Swedish Clothing Design which is being held at Dunkers Kulturhus in Helsingborg in southern Sweden during the summer and autumn of 2005. The exhibition brings together for the first time 72 of the future trendsetters in the Swedish fashion world.
A broad selection of their latest ideas and creations has been put together to create
a fashion manifesto for Swedish clothing design at the start of the 21st century.
The exhibition offers a unique opportunity to become familiar with Swedish fashion designers and to gain an insight into their work. It demonstrates how interesting and multi-faceted Swedish fashion currently is and shows that the contemporary fashion world consists of a wide range of different forms of expression. This is what we call fashion.«
(From the exhibition catalogue)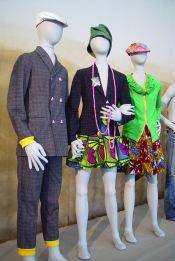 PLEASE DISTURB
SVENSK FORM (+TOUR), 2005
Book for the exhibition Please Disturb! Svensk Form, 2004. Showing fashionshows Maja Gunn made on public places in Sweden and Holland
[nggallery id=10]